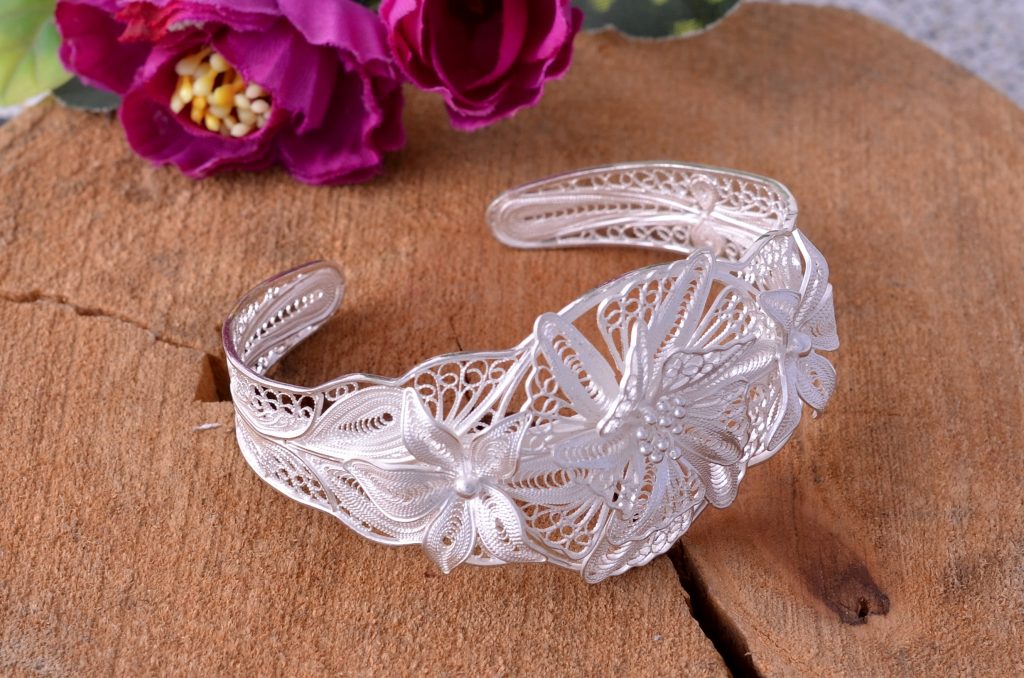 Filigree Jewelry is the latest trend in the jewelry market these days. It is one of the most fascinating type of jewelry. Filigree Silver Jewelry is basically the silver wires interwoven together to make the delicate and beautiful designs. Also, filigree craftsmanship can be used to make figures and art pieces. The blend of shining threads of silver gives the contemporary look to filigree jewelry. This form of silver jewelry although looks delicate and fragile but it is quite durable if proper care is taken of it.
Filigree Jewelry in Silver
Filigree Jewelry is the most light weight jewelry in the complete range of silver jewelry. The collection of filigree silver jewelry comprises of earrings, rings, bracelets, pendants and necklaces. All these items are made of 925 silver. Even the utensils made of filigree are used for traditional occasions in India. And the items are crafted with a highly polished finish. Filigree silver jewelry is completely handcrafted which makes it even more special and different from others.
Two Tone Filigree Jewelry
The best part of filigree jewelry is the simple, beautiful and elegant designs that make you stand out of the crowd. You can also get the filigree jewelry gold plated as per your need. The two tone color of the jewelry certainly adds to the charm and gaining popularity of the this jewelry.
The art works, decorative objects and the designer jewelry made out of filigree has been fascinating people from ages with their beautiful designs. Filigree work in silver is very popular in India and even the other markets of jewelry all over the world. The delicacy associated with the filigree jewelry makes it a feminine art of jewelry. Due to a mix blend of traditional and modern design in filigree jewelry, it has got admirers all over the world.